THIS PAGE IS ALWAYS BEING UPDATED WITH THE MOST RECENT INFORMATION. PLEASE CHECK BACK PERIODICALLY AND IN THE WEEKS LEADING UP TO THE SHOW.
Last updated: July 6, 2022
Join us Saturday, January 7 for a NETWORKING MIXER after the show from 3:15-5:00pm in the Show Lounge near the Fashion Shows.
Please be sure to have your exhibitor badge visible for access.
2023 Show Information
Show Hours & Exhibitor Access:
Exhibitor Access
Show Hours
After Show Hours

Friday, January 6

MOVE IN

9am - 5pm
N/A - Move in Only

Saturday, January 7

SHOW DAY

7am Access for Exhibitors to finish displays
9am - 3pm

3:15pm - 5:00pm

Exhibitor Mixer in Show Lounge

Sunday, January 8

SHOW DAY + MOVE OUT

8am Access for Exhibitors
9am - 3pm

3:01pm - 6:00pm

Move Out
Phoenix Convention Center - SOUTH Building
33 South 3rd Street
Phoenix, AZ 85004
Rules and Regulations
EXHIBIT RULES:
1. Exhibits should not exceed 8 feet in height. If your display exceeds 8 feet, the exposed display may not have any branding on your neighbors side and must be finished (ie, not unpainted walls etc).
2. Do not cover up Fire Extinguishers.
3. Sound pressure levels must be below 85 decibels, as measured at any edge of your booth. All speakers must be at the back
of your booth, facing forward. No sub-woofers and no microphones.
4. No cooking demonstrations.
5. Balloons must be air-filled only (no helium).
6. Exhibitors must remain within the paid footprint of their booth while advertising their products/services. Anyone caught "selling" outside their designated booth space will not be receiving the Bride List.
7. Any cosmetic companies performing procedures need to submit proof medical licensing and a copy of the waiver they will be proving to customers onsite for Show Management approval before move in.
8. Flooring is required to cover your booth display to present a finished and professional display.
9. Hand written signs are not permitted. All signage in your booth must be professional and clearly legible.
10. Your booth must be manned during show hours so as to be able to answer attendees questions about your business.
11. No flame candles / live flames or incense are permitted within your booth space/display.
12. Moving in of any display materials during show hours is NOT PERMITED. All displays must be completed by 8:30am before show open each day.
FIRE MARSHAL INSPECTION:
Please be in your finished booth for Fire Marshal inspection by 8:00 AM on Sunday morning. Be sure that you have the fire retardant certificate available for any outside fabric, not provided by the decorator, and all outside carpeting or flooring is taped
down and secured.
**The show will not open unless you are in compliance with the fire marshal regulations.
CLEAN UP:
Leave no trace. Please remove trash from your booth at the end of the show, and put it into the dumpster. If a mess is left at your booth, you will be charged a $100 clean up fee. Leave your booth space as you found it when you moved in.
EXHIBIT LIKE A PRO
CLICK HERE to learn our tips on how to make the most out of your show experience and build your business so you can keep business coming in show after show.
Show Decorator
We partner with Modern Expo as our show decorator. They offer a variety of options such as carpet, furniture, and even booth rentals. Modern Expo can also help you with shipping and logistics!
Modern Expo Exhibitor Manual - Coming Soon
Discount order Deadline: TBD
(801) 983-8160
Phoenix Convention Centre Venue Guide
Please CLICK HERE for the venue guide. Here you will find electrical information, vehicle display information, fire procedures and more.
Electrical
Show Management does not supply booths with electrical services.
Electrical orders are done through the Phoenix Convention Center / Commonwealth Expo Electric.
Exhibitor Electrical Order Form Coming Soon
Discount Deadline: TBD

Phone 602.253.5881
Email: Stacey Brockman SBrockman@commonwealthelectric.com or expo@commonwealthelectric.com
Internet
Please click here to purchase internet for your booth.
Internet is provided through
Smart City Wireless Services
1.602.252.1770
LOADING DOCK ACCESS
You must enter through the East Garage either off of E Jefferson St (East bound) or Washington Street (West bound), both are one way streets. South 5th Street will be closed to through traffic on Saturday, June 5th for Exhibitor move in and during move out hours on June 6th. Once in the East Parking garage, you will be directed by Signage to drive through the ground floor (Westward) towards the convention center loading docks across the street from South 5th St. and into an available unloading space or slip (for large rentals/trailers/box trucks) appointed to you by the PHX Police Officers/Security on the street.
*It is highly recommended that you cart your booth materials from your car if you do not need a dock. You can park in the East Garage and unload from there, walking over your materials.
Please remove your items quickly and place in your booth, grab an exhibitor badge, and then move your vehicle into the East Parking Garage or the South of Jefferson Parking Garage on 3rd Street. Please note large vehicles cannot be accommodated here.
Move In
Friday, January 6, 2022 9:00am - 5:00pm
Saturday, January 7, 2022 7:00am - 8:15am
ALL EXHIBIT SPACES MUST BE COMPLETELY SET UP BY 8:15AM ON SATURDAY, JANUARY 7.
ANY EXHIBITOR CAUGHT BRINGING IN MATERIALS DURING SHOW HOURS WILL NOT RECEIVE THE ATTENDEE LIST.
Location – Loading Dock F & Dock G
South Building, Phoenix Convention Center
Loading Dock Entrance on Fifth Street
If you are in room 1, you can use the "pull out: on 3rd street to UNLOAD ONLY. There is no parking permitted there.
Please note that you may not leave your vehicle unattended on the dock or in the dock area. You may pull onto the dock to unload your car but you must park your car before setting up your booth. Unattended vehicles are subject to tickets and towing.
Move Out
Sunday, January 8 3:01pm - 6pm
All exhibitors must dismantle and pack up their display BEFORE bringing their vehicle to the loading docks to allow for faster load up and exit.
*Please note that tear down may NOT begin before 3pm. Exhibitors tearing down/moving out before show close will not receive the attendee list.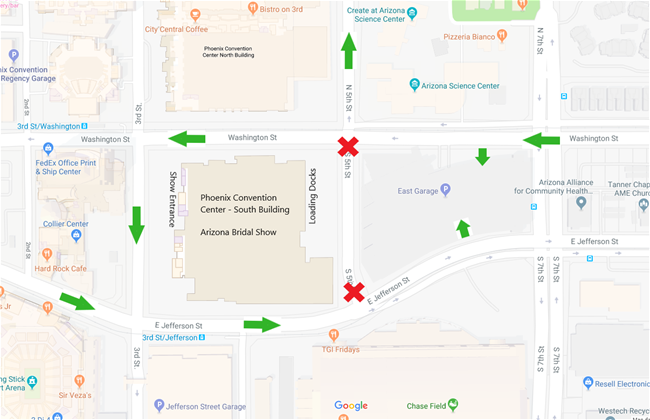 Sampling
PERMITTED SAMPLES: You may pass out food or beverage samples ONLY if it is part of your business. For example, caterers or cake companies who are
sampling their own products.
NON-PERMITTED SAMPLES: You may NOT pass out food or beverage samples as traffic-builders to your booth. For example, a photographer may NOT pass out candy or cookies or bottled water. To sample, you must file separate forms with Maricopa County and with Aventura (Convention Center Caterer).
MANDATORY FOR TO MARICOPA COUNTY
You must file ONE of these two forms with Maricopa County:
1. If you do NOT have a current, valid Maricopa County MOBILE Food Permit, you must apply for a "Temporary Food Service Permit." Click the link to find the Temporary Event Permit Application: Mobile Food Permit
2. If you DO have a current, valid Maricopa County MOBILE Food Permit, there is no charge. However, you must submit the following
form, "Food Caters Operating at a Special Event Notification Form."

MANDATORY FORM TO AVENTURA
1. EVERYONE sampling MUST complete and fax the Authorization Request to Aventura at the Phoenix Convention Center, along with a
copy of your current, valid Maricopa County Mobile Food Permit OR your Temporary Food Service Establishment permit.

2. Please bring a copy of your Food Handling Permit with you to the show.
Be sure to have a Hand Washing Station and follow all of the requirements – Maricopa County will be inspecting the bridal show.
Selling Guidelines and Authorization Form
Food Sampling Form
Questions? Please reach out to Sandy Brown: brown-sandy@aramark.com
Exhibitor Badges
Exhibitor Badges are required on show days, January 7-8 to enter the exhibit halls (badges are not required during move in on January 6). Exhibitor badges can be picked up by Loading Docks F and G at the South Building during move in, or at the main entrance once the show is open. We encourage those moving in on Friday to pick up their badge before they leave to avoid a line up before show open.
SHOW INSURANCE
Liability requirements are $1,000,000 and we require a copy of your certificate of insurance sent to Stepanieg@mpeshows.com to keep on file. Please email only, do not mail.

We also require that we are listed on your policy as additional insured as Marketplace Events LLC.
Our address is:
Arizona Wedding Show
Marketplace Events LLC
2000 Auburn Drive
Suite 200
Beachwood, OH 44122
Don't have an existing insurance provider? We partner with Buttine Exhibition & Event Insurance. To get a quote, apply online at https://www.buttine.com/eventExhibitor.html or
For questions please contact:
Buttine Underwriters Purchasing Group, LLCKendra Reilly Monahan at 212-867-3642 or kmonahan@risk-strategies.com
Deadline to apply for these insurance programs is December 15, 2021
Please click above to see information about companies contacting our exhibitors regarding scams.
ADDITIONAL MARKETING
We want you to get the most out of your exhibit experience and here are some tools that can help you.
Get social with us! Here is a social media image you can use on such platforms as Instagram. Just be sure to tag us @AZWeddingShow and the show hashtag #AZWeddingShow22 #AZWS22
Need Help? Here is a link for Tips and How-Tos Social Media Guidelines for Vendors
INSTAGRAM/SOCIAL MEDIA IMAGE
Sample posts include:
#1 – The Arizona Wedding Show returns to the Phoenix Convention Center Jan 7-8 & we'll be there in Booth ##. Shop our hottest products & get ready to say "I do" in style! Register today at: <link>

#2 – Say "I do" to a day at the @AZWeddingShow. Shop the best wedding vendors in #Arizona, including us! We'll be at the Phoenix Convention Center in Booth ##. Register today at: <link>.
Image Links
Instagram Graphic Version 1
Instagram Graphic Version 2
Instagram Graphic Version 3
Instagram Graphic Version 4
Grab Bags

Put YOUR literature* into EVERY couples' hands the moment they walk in the door! Provide us with your literature and we will stuff it into a bag that each bride or groom will receive at the entrance to the show.
Average 7,500
ATTENDEES
$175 for Grab Bag
3,500 pieces required
Booking Deadline: December 28,2022
Drop Off Deadline: December 30, 2022

* Limit one 8.5" x 11" (or smaller) unfolded piece of literature per paid exhibitor. NO catalogues. Literature may not contain any non-exhibitor information. All literature must follow all delivery instructions and deadlines in order to be included.
GOMPERS HABILITATION
5340 W. Bethany Home Road
Glendale, AZ 85301
Gompers is open Monday through Friday 7:30 AM – 3:30 PM. Please drop your pieces off at the front lobby and mention the Arizona Wedding Show. Pieces dropped off/delivered after the deadline will NOT be accepted unless arrangements were made in advance. Exhibitors who have not paid for the grab bag will NOT be inserted into the grab bag.
To add the Grab Bag package to your contract please call 480.236.7987 or email Stephanieg@mpeshows.com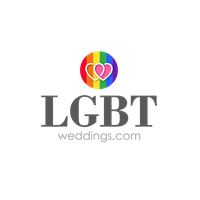 We are excited to have LGBTweddings.com as a proud partner of the Arizona Wedding Show. They will be onsite during the event providing helpful information for wedding pros and couples. If you would like a tent card from them to show you are inclusive of all couples, please reach out directly to Kimberly at Kimberly@LGBTWeddings.com
Click here for helpful hints to start communication with couples
Printing and Paper Services
PaperCrazy Provides high-quality print products, competitive pricing, graphic design and friendly customer service!
Order Form and Pricing coming soon
3520 N. 7th Street, 2nd Floor
Phoenix, Arizona 85014
602.234.0184
hellopapercrazy@gmail.com
Exhibitor Listing Info
You should have received a link that will take you to your online exhibitor listing form to fill out. If you did not receive this or are unable to find it please email stephanieg@mpeshows.com and she can send you a new link.
Need help with your listing?
View the tutorial video - https://youtu.be/ecSxq1oKuYg and the FAQs.