2021 will be a Busy Wedding Year
May 28, 2021, 18:00 PM
Almost one-half of couples getting married in 2020 rescheduled their wedding date to 2021. The other half decided to keep their original date, downsizing their guest count to meet COVID-19 safety guidelines, while considering the health of their loved ones and friends first.
Many who have already gotten married during the pandemic are now ready to consider a larger celebration. 2020 was the year of the Zoom wedding, and 2021 is expected to be the year of the "after parties" and "anniversary receptions."
Gov. Doug Ducey issued an executive order March 25, 2021, lifting all state COVID-19 restrictions on businesses and barring cities and counties from enforcing mask mandates, except in government buildings and on public transit.
With these postponed celebrations from 2020 being added to the 2021 social calendar, it is important to be flexible on your date and time, since there is only one Saturday, as the most requested wedding day, each week. You may want to consider a Friday or Sunday celebration, or possibly Monday through Thursday to get availability to have your celebration in 2021, versus delaying your celebration for a 2022 Saturday.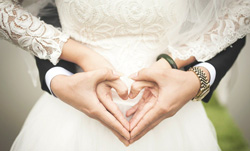 Trends we are seeing in weddings in 2021, is an increase in the popularity of outdoor weddings to keep their family and friends safe. Creating a wedding website helps keep your guests informed on immediate updates, and allows you to tell more about your love story, dress code, as well as health and safety updates. Keeping your guests informed reduces their anxiety.
Because of the pandemic, everything has changed and shifted from the way weddings were which has impact on the food service, live music and dancing, as well as guest seating. Family style meals and food stations may become a thing of the past to reduce cross contamination.
The wedding weekend experience becomes more important as couples focus on taking care of their closest family and friends for the duration of three to four days versus just on the wedding day. Weddings may be smaller and more intimate, yet allocating more dollars for a smaller guest list.
The inability to socialize and gather with our closest family and friends during the pandemic has made the need to gather with your VIPs essential, and has helped trim guest lists.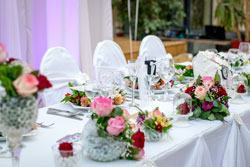 Since COVID-19, the trending type of nuptials are:
Micro Weddings – an intimate wedding, with typically 50 or less guests for a full wedding ceremony with typical wedding traditions, which may be spending the full wedding budget, yet more money is allocated on less people.
Minimony – it's a mini ceremony as a commitment ceremony between the couple and up to 10 people, (adhering to social distancing) which normally includes the couple, the officiant (in-person, or virtual), and a few loved ones. This may allow you to honor your original wedding date, or to move forward with this option for legal purposes.
Sequel Wedding – is when a couple has multiple ceremonies. Typically the first ceremony is more intimate in nature, (a minimony or micro wedding), and may be your original wedding date, yet due to COVID-19 restrictions, you still want a larger-scale second wedding to include more guests.
Anniversary Reception – Party held on a married couple's anniversary since a traditional reception on their wedding day because of the pandemic wasn't possible. Previously, first year anniversaries were low key, yet because of the pandemic, couples are going all out, even if their guest list is still limited.
Another reason to gather with your loved ones in one space is to honor the greatest gift that event COVID-19 couldn't stop – your marriage!
Author: Kim Horn, MWP™ (Master Wedding Planner – 1 of 75 in the World)
About the Author: For 31 years, Kim Horn, MWP™ (Master Wedding Planner – 1 of 75 in the World) has been the lead wedding planner, event designer, president/publisher of
Arizona Bridal Source
in Ahwatukee, Arizona, yet has handled events worldwide. Kim won the 2016 Couples' Choice Wedding Planner of the Year – Wedding Wire. Kim was the ABC (Association of Bridal Consultants) Annual Conference Chair in 2010, and led as the ABC AZ State Coordinator May 2003 – May 2012. Kim has been interviewed as an expert in weddings repetitively on ABC, NBC, CBS and Fox networks in Arizona. Kim has been interviewed and published by Brides, Elegant Bride, Wall Street Journal, International Marketing Magazine, and the Arizona Republic.