Arizona Bridal Show Survival Guide
The Arizona Bridal Show returns to the Phoenix Convention Center, South Building on Sunday, June 2. With 350+ vendors to connect with and lots to see and sample, we caught up with Wedding Planner Kim Horn to help you make the most of your visit to the show. Here's what Kim recommends: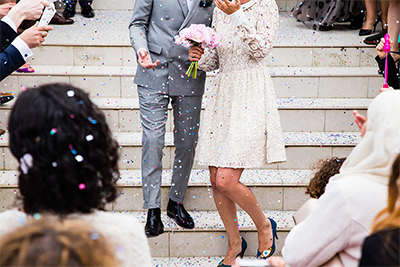 Bridal shows allow you to meet, compare, discuss, and hire wedding vendors (some have show specials for a limited time) at one location at one time. You may taste cakes, view sites, try on gowns, hear DJs, see and smell floral, and much more. These wedding planning tips are priceless to make your "Bridal Show Experience" productive!
1). Pre-register and purchase tickets in advance vs. waiting in lines the day of the show.
2). Download the BrideScan app, and build your profile. BrideScan allows you to scan potential wedding pros and brides you meet during a bridal show via QR code. No more sorting through business cards or writing your name, wedding date, and email address on their forms! BrideScan allows you to view the vendors by category (caterers, cakes, etc.).
3). Create a wedding email.
4). Know the show schedule (fashion shows, opening, and ending times) to plan your day. Shows normally are less busy the first hours of opening.
5). Bring the people involved in making major decisions for your wedding.
6). Take photos and video of everything you love.
7). Bring a reusable bag to carry hand-outs and samples.
8). Wear comfortable shoes since you will be walking and standing on your feet for hours.
9). Bring your calendar so you may book appointments.
10). Bring cash and your check book to take advantage of show discounts on site.
11). Bring your color swatches if you still need a designer, florist, and bakery.
12). Make a list of priorities of products and services you need the most.
13). Some vendors may be able to book one or two weddings a day which will make them book more quickly. Photographers, DJs, wedding planners, florists, and videographers may be examples of this vendor type. Other vendors may be able to book multiple weddings on the same day. Keep this in mind when organizing your priorities.
14). Stay until the end of the show, you may be able to have props which are leftover from the exhibitors.
For more tips and tricks to hit up the Arizona Bridal Show like a pro, be sure to
subscribe to our email list
and connect with us on
Facebook
,
Twitter
and
Instagram
. We can't wait to see you at the show!
About the Author

Copyright 2019, Kim Horn, MWP™ (Master Wedding Planner, 1 of 75 in the World) To hire Kim as your wedding planner, call 480.921.7891 or text your name, wedding date, and wedding planner request to 602.418.9089. Kim Horn, MWP™ Master Wedding Planner | 1 of 75 in the World Scottsdale, Paradise Valley, Chandler, Phoenix and Destination Weddings Publisher | Pres. |
ArizonaBridalSource.com
Sponsor |
ArizonaBridalShow.com
AZ State Coordinator | Assoc. of Bridal Consultants May 2003 – May 2012 ABC 2010 Conference Chair worked with David Tutera O 480.921.7891 C 602.418.9089 E info@ArizonaBridalSource.com
ArizonaBridalSource.com
May 15, 2019, 12:56 PM